Paver Pressure Washing & Sealing Services
for Boca Raton, Florida and the Surrounding Areas
Pressure Washing Services operating in Boca Raton, Florida and the Surrounding Areas
Residential Paver Cleaning Services in Boca Raton
Over time, the Florida sun and harsh weather will cause your pavers to fade and become dingy. Foot traffic and other natural elements also play a part in damaging the pavers. Blue Shield Power Washing of Florida has the knowledge and experience to restore your pavers to their former glory. We utilize our soft wash technique to effectively clean your pavers without causing any damage.
Paver cleaning includes removal of hard water sediment, mildew, weeds, grease, and other contaminants. Along with our soft washing, we also specialize in paver stripping to restore your pavers and remove weeds.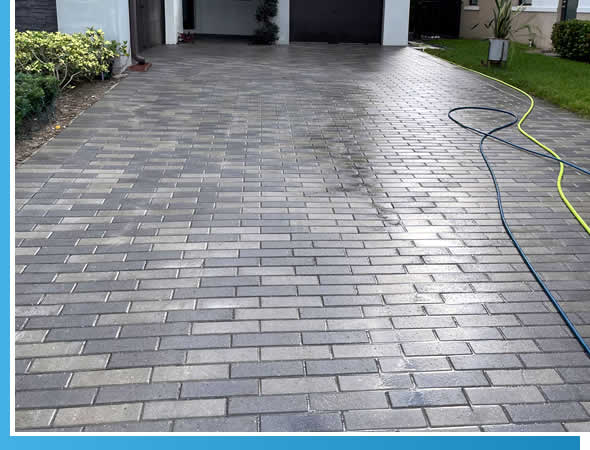 Professional Paver Sealing
After your pavers have been properly cleaned, we recommend adding a sealer to help maintain its pristine look and protect the surface for years. Blue Shield Power Washing of Florida has over 17 years of experience sealing all types of pavers. We can help you choose the best sealer for your pavers, whether its a penetrating water based sealer or an acrylic sealer.
Paver sealers are specifically formulated to make the surface of your pavers more stain resistant and protect it from harsh weather and everyday wear and tear. Paver sealers also solidify any loose joint sand, preventing any shifting or moving over time. We recommend to seal your pavers every 3 to 4 years.
Service Areas in Florida for Paver Pressure Cleaning and Sealing
Boca Raton, Boynton Beach, Coral Springs, Deerfield Beach, Delray Beach, Highland Beach, Lake Worth, Lantana, Parkland, Palm Beach County, and the surrounding areas.